We would love for you to join us as a financial partner. We need partners to help pay for the thousands and thousands of mobile schools we want to place around the world.
By becoming a partner, you will:
Receive a monthly update with prayer points;
Learn about and connect with specific countries, projects and people to intercede for regularly;
Connect with others in your community who are partnering with T4 Global; and
Be invited to an annual gathering for corporate prayer, celebration, story telling and information about what God is doing around the world through T4 Global.
Download this partnership form and send it to us at one of the addresses below:
T4 Global
PO Box 130266
Dallas, TX 75313-0266
E-mail: eweaver@t4global.org
Download this Automatic Debit Agreement if you would like to set up automatic monthly donations to T4 Global.
Ipod, Iphone and other MP3 device Recycling
We would love for you to partner with us in our recycling program.  Our ministry uses solar powered MP3 devices to communicate with oral learners.  You can help us purchase these devices by recycling your unused Ipod, Iphone and other MP3 devices.
Just Click Here to Donate.
You will receive an email within 48 hours with information on how to mail your Ipod, Iphone, and other MP3 devices in, all postage paid!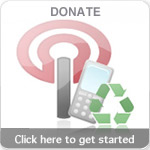 *Environmentally Responsible Recycling:  Recycle with Integrity  will process your phones through an environmentally safe recycling process.  We commit to a zero landfill policy, and will not process your scrap in underdeveloped countries, where many environmental groups have revealed the toxic effects of unregulated recycling operations. Recycle with Integrity takes their commitment to the environment seriously!